See on Scoop.it – Corporate Ecosystem Services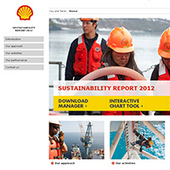 To indroduce their Sustainability Report 2012, Mr. Peter Voser, CEO: "I am pleased to introduce the Shell Sustainability Report for 2012. Against the backdrop of a still-struggling global economy, we continue to operate in economically, environmentally and socially responsible ways; and to invest for the future."
MJP EcoArchives's insight:
Is there any other industry that has such an impact across how Corporations interact with Ecosystem Services (human and non-human alike)? A clear bench-mark in the need to stay ahead of addressing impacts on an ecosystem level by the massive Energy Corporation of Royal Dutch Shell. It tells you much about Shell themselves, but is an interesting trend-baramoter for 2012.
I could make comments about another CSR report – there are a lot out there and as expected Shell's is polished and comprehensive.
But I like this graphic from their report, let's talk about this.
It's a nice way of looking at the company behind this report. It's massive.
Think about this when you're reading a sustainability report like this – this is the universe we are looking at.
See on reports.shell.com