See on Scoop.it – Nature + Economics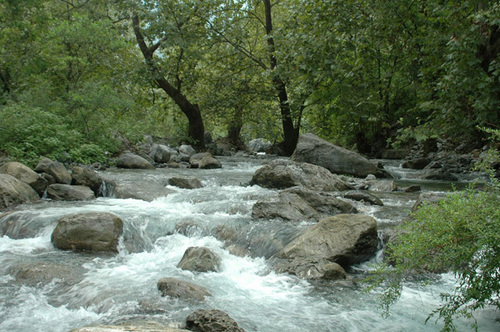 Stanford Report: New Stanford software helps identify cost-effective ways to invest in clean water
… The Nature Conservancy and the World Wildlife Fund. The project is aimed at aligning economic forces with conservation.
"Freshwater is one of the planet's most scarce resources. Demand for it is growing, and climate change threatens its supply. It's a serious problem.
But a new free software tool, the Resource Investment Optimization System (RIOS), developed by researchers from the Natural Capital Project at the Stanford Woods Institute for the Environment, could be part of the solution.
"Using the RIOS approach in Colombia has dramatically improved the return on investment over previous approaches to watershed investment. For example, if a water fund manager has $10,000 to spend on improving a stream's water quality, the RIOS software can help determine the most effective investment, whether it's paying farmers to avoid cultivation near the stream, stemming deforestation or building fences to keep animals away."
MJP EcoArchives's insight:
The Natural Capital project has produced some great items – I'm always looking out for truly targeted, practicle and feasible developments, and The Natural Capital project has piqued my interest in the past.
Watershed payments have been used for a while now to direct some economic incentives and backing to conservation of natural values on a landscape level. They've also been used in a variety different contries, regions and governance contexts around the world to quite some success. I'm always interested in ideas that span both the developed and developing world, and so I suspect that Watershed payments – in some permutation – will continue to be a part of commecting Ecnomics and Nature in the future too.
Of course, one of the major challenges is locating where and how to spend money that actually delivers results. It's harder than it looks to do this – how do you locate these opportuntiies in a timely and cost-effective manner? Watershed payments need to be an effective option in watersheds where there is limited ecological knowldge and limited finacial resources.
If Stanford and the Natural Capital Project can find a method to determine where to put payments for watersheds, in the watersheds, then this is a real step forward for a promising system.
See on news.google.com