See on Scoop.it – Nature + Economics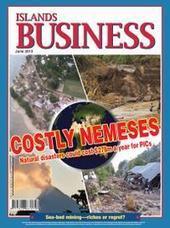 "PORT MORESBY, PNG — THE United Nations Development Program-Global Environment Fund (UNDP-GEF) will aid Papua New Guinea (PNG) with U$D12 million to protect its biodiversity.
UNDP-GEF supports countries in unleashing the economic potential of protected area systems and mainstreaming biodiversity management into economic activities. Minister Pundari said the Government will create a Biodiversity Trust Fund (BTF) to protect the biodiversity of the country's environment."
MJP EcoArchives's insight:
It seems a nice progressive step for the UNDP to see biodivesrity and NATURE Protection as instrumental to ECONOMIC success, here.
The Minster for the Enviornement and Conservation has stated their Trust Fund process will be transparent and accountable. A laudable goal, but frequetnly ellusive in areas with economically and politically challenged recent history, such as Papua New Guinea.
While the majority of early fund ear-marking has gone to protecting their conservation areas (good to walk before you can run), it seems they are also making progress towards more integrated conservation approaches.
"He revealed that he had signed the first approval in principle for a resource developer in Western Province to include a biodiversity offset plan in its development."
It's great to see Economic Development organsisations like the UNDP getting behind these intitiatves in still-developing areas. Let's hope its a steady trajectory to success for PNG.
See on www.islandsbusiness.com