See on Scoop.it – Nature + Economics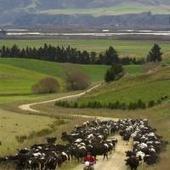 A new vision for conservation hopes to break down some of the old divisions, writes Tom McKinlay.
"Tahi is the Northland retirement project of Dr John Craig (ONZM), formerly a professor in the University of Auckland's School of Environment, who is continuing his life's work with the ecologically focused project in biodiversity conservation. To wit, 300ha which is home to the pricey retreat, a manuka honey operation, carbon-credit harvesting, wetland restoration and tree planting, among other things. The tree-planting count so far is up to 210,000. Dr Craig also hopes to get into biobanking.
The internationally certified operation is plugged in to the Zeitz Foundation's Long Run initiative, which backs projects that combine the four elements conservation, community, culture and commerce.
So it's an attempt to do something with the land that turns a dollar but is sustainable for the long term."
MJP EcoArchives's insight:
I've been waiting for more progressive developments from my home-town (well, country). We've got such brillant environment to work with. I hope this project drives the conversation like it intends to.
I worked with David Norton on my thesis. So I'm really keep to see him bring his knowledge to the table.
See on www.odt.co.nz